Posted On Saturday, January 10, 2009 at at 8:59 PM by Finance Fanatic

Share
As I had said in my last post, Thursday I had the opportunity to talk with Rob Garcia, a Director who has been with
Lending Club
since the beginning, and discuss the company and some of the things that sets them apart from their competitors and makes them a legitimate company to be considered as a strong investment vehicle in this market. Because of the length of info I wanted to report, I am probably going to break up this post into two separate ones, as I don't want to bombard you with too much info. As a preface, please recognize there are risks with P2P lending, so don't think of this as a "guarantee money maker." However, you can definitely make some serious returns and hopefully with some of these tips, find some good returns of your own. If you haven't read before in my posts, I have invested a small portion of cash in the program to give it a shot and I will be covering my experience and give updates on this blog. I personally feel this can be a great alternative investment for me in this current market. I do not represent the company, so I hope I get most of the facts right, but just be aware, I do no plan to, but I may misrepresent the company with wrong information, if so, I apologize.
So what is
Lending Club
? They are a P2P (People to People) lending group (been around since June of 2007) that provides short term lending for people in need of capital. The key is that, other consumers are also investors in the loan and are collecting on the interest, not a bank. You can sign up as either a lender and invest in loans yielding anywhere from 6%-19%. You can also sign up to borrow money, which enables consumers to find very competitive rates to borrow from. Either way, it can be a win win for both the consumer and the investor if all goes well.
The biggest question I got from all of you which I passed on to Rob was what is the default rate? The first thing Rob said is that Lending Club prides themselves in the transparency of their information. As I went through the different links they have, I found this to be very true. For instance, the graph below shows the total amount of loans Lending Club has issued since its beginning. As you see, out of the $25,156,400 worth of loans they have issued since June of 2007, only $677,495 (or 2.69%) have defaulted. They define default as failure to make a payment over 120 days. This was a lot lower than I originally thought and actually made me feel a bit more comfortable with my invested funds, since I did not choose that risky of loans.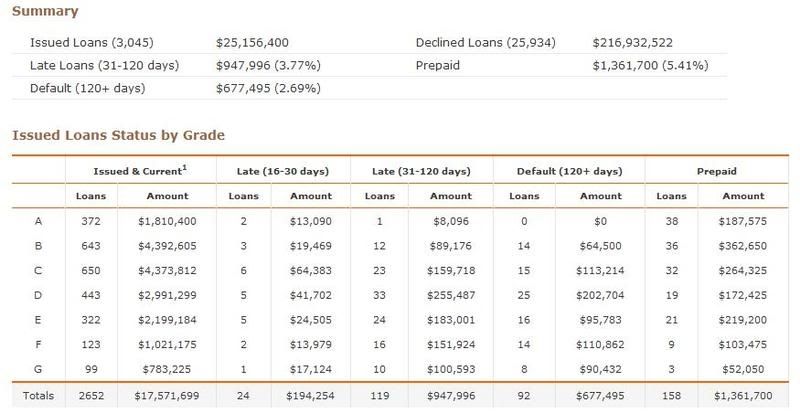 Lending Club does go after defaulted loans and are sometimes able to recover the funds. They continually update their collection process with every phone call they make all the way to the final bankruptcy judgement decision. They do a great job of keeping you updated.
Now, when choosing a loan to invest in, Lending Club does a pretty good job of getting a lot of information from their background checks on individuals and disclosing this to the investor. Below is an example of someone who is looking for a $3800 loan.
As you can see, they have their current employment, length of employment, credit score, credit balance, etc. All of the loans issued on Lending Club are 36 month (3 year loans). So one downside, is that your money is invested for a longer term. However, as I will talk about in another post, you can sell out of your position in a loan through their secondary market to liquidate your investment.
I asked Rob of loans that seem to perform better than others and he said,
debt consolidation
,
car loans,
and
paying off credit cards
were some that stood out as top performing loans
.
I did ask him ones that have not performed well and although he said nothing was black and white, he did say that a lot of wedding debt (found that funny) and student loans had some problems in the past.
Below is a picture of what it looks like when initially browsing the loans to choose to invest in. You can either choose a target investment yield and they will automatically choose a portfolio of loans for you to approve, or you can go through individually and manually choose them. As you can see, it gives the loan description, loan balance, Lending Club's value rating of the loan along with the interest rate (the larger the interest rate, the lower the value rating). It also shows how much is left to fund and the time left until the loan is issued.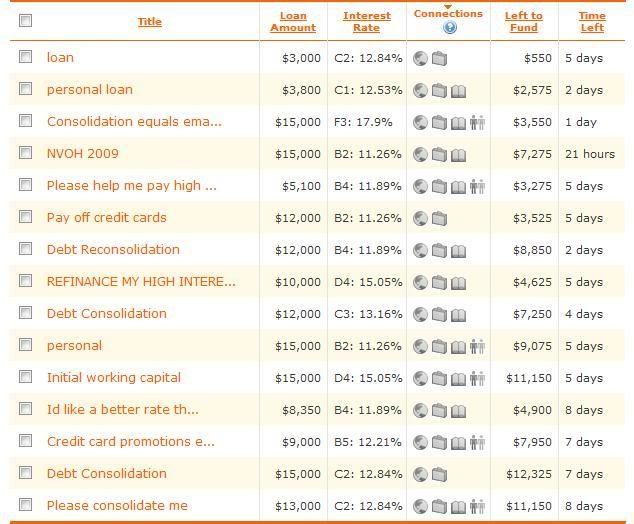 To sum things up for this first post, I asked Rob to give a couple points that separates them from competitors. First off, is that they are actually registered with SEC. Although, they haven't registered with all states, they have registered
Lending Club
with most states and have the
SEC's
blessing. This can be an added comfort to investors knowing they are going through proper channels.
The other big one was their platform. They are very transparent with their information and try to give the investor as much information about the loan they are investing in. The ease of use is very significant, as I was able to sign up, find loans to invest in and be finished all within 10 minutes.
I didn't want all the information crammed in a post, so I will stop here and talk more on another day about some positives about this program I have found. I see these P2P programs becoming more popular as banks continue to struggle to lend. My biggest concern is regulation, but so far I am very impressed with
Lending Club
as they are definitely a company worth looking into. It is free to sign up and if you are interested in signing up either as a
Lender
or
Borrower
. Feel free to ask questions in comments, I'll try to answer them the best I can. I can also have Rob answer any I can't. Have a good night everyone, and lets hope for some good money in the market this week.
74 comments: